About
An Idea from the USA, Made in the USA
Back in 2002 our founder Doug Lamb came up with a pretty clever invention for washing his favorite red car, he called it the Grit Guard Insert.
Do you remember what washing your car was like back then? With NO fancy foam cannons, NO slick spotless rinses, NO fancy microfiber towels, and NO GRIT GUARDS!! Did everyone just go around scratching their finishes? Yeah, pretty much, that's what drove Doug to create numerous prototypes of a settling filter that would let the dirt come out of the wash mitt, go to the bottom of the bucket, and then keep it from picking the dirt back up.
Seems so simple now, with the two bucket wash method becoming a standard, and car care science evolving our use of chemical washes and coatings. As this industry has grown so have we; launching several more products to help our detailers get the most from their wash systems.
Grit Guard continues to work on improving the current car detailing process, with the continued question...Is there a better way?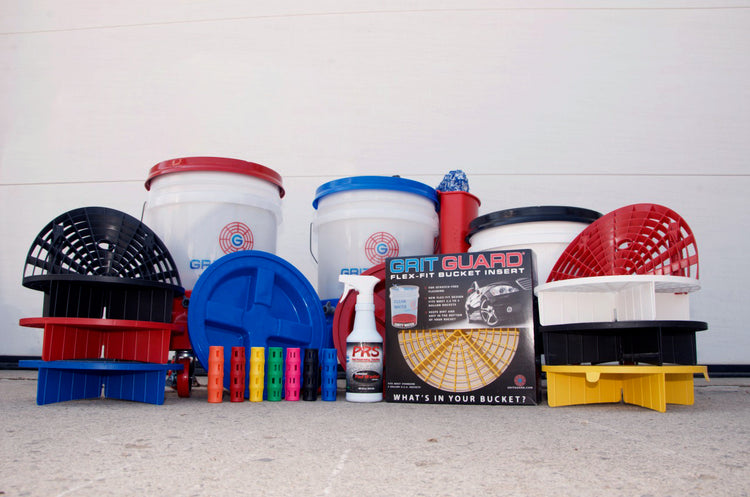 2002
2006
2013
2015
2016
2020
The Beginning
Grit Guard Established
We started small with a truck and trailer traveling around to car shows building buzz around the Grit Guard Insert. No social media back then, but we were able to meet a lot of great people and develop some lasting relationships.
Continued Innovation
Pad Washer Introduced
Doug and his son Chris created the Universal Pad Washer, taking the same innovative ideas and applying them to provide a cleaning solution to buffing and polishing pads, saving detailers time and money.
Doug and Chris devised a spring-loaded integral support system that also pumps water into the underside of the buffing pads and would keep the Grit Guard® Insert close to the top of a 5 gallon bucket. Pads would be cleaned on the Grit Guard® Insert while being slightly submerged in water. This worked incredibly well, as buffing pads cleaned up in mere seconds! This surface could be used top clean all types of buffing pads, and since the cleaning action relied on the motion of the buffer, not the motion of the pad washer, it worked with all different types of buffers and polishers. The Universal Pad Washer was born.
The pad washer was a product that was tested and used in the field countless times, resulting in many new improvements and ideas, such as the Grit Guard Extension, which acted like an orange juice squeezer, deeply penetrating the buffing pad. The Grit Guard Extension fits anywhere around the Grit Guard® Insert, allowing the user to target hard to clean areas of the pads, such as the edges or the center. It also fits into the splash guard lid, and is used to extract excess moisture from the buffing pad, so there is no need to dry the pads before putting them back to work.
Improvements
Redesigned Bucket Dolly
We improved the bucket dolly by increasing the strength and adding larger plastic bolts. I mean we made this thing tough! We froze it, we drop tested it, we overloaded it. Our dolly is the definition of "Over Engineered". Our customers have come up with more uses than even we imagined.
Extending Utility
Washboard Introduced
We designed the Grit Guard Washboard. An attachment to the Insert that provides an extended scrubbing surface for your wash mitt and brushes. It looks simple enough, but a lot of time and effort went into this design in order to give you the most flexibility for your wide variety of tools. The wide flat design works with the largest variety of mitts, brushes, mops, and microfiber applicators. Giving you a product you can use in multiple scenarios; such as washing your car, boat, RV, garage floor, house siding and windows
Universal
Flex-Fit Insert Released
We designed the Grit Guard Flex-Fit Insert to ensure you can use with any size of bucket. Although buckets all appear to be the same they are quite different in shape and size depending on the manufacturer. So we scaled the Original Insert down and added the flexible tabs to fit in a large variety of buckets. Sold at a large number of auto-parts stores in the US and Canada.
Still Growing
Expanded HQ
We expanded our HQ to provide faster and better service to our customers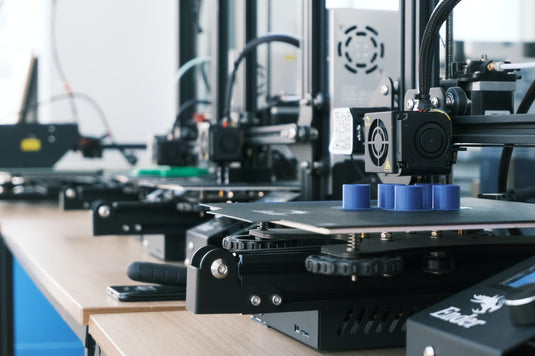 Designed and Built in The USA
Family owned and operated since 2002. We are proud to support American jobs by producing all our products in the USA.
Manufacturing here allows us to quickly respond to customer orders and deliver services unmatched by our competitors. We continue to innovate and create products that make your task easier.
Shipping Worldwide
We deliver product by the ship load. Working with international freight partners to deliver product all over the world.